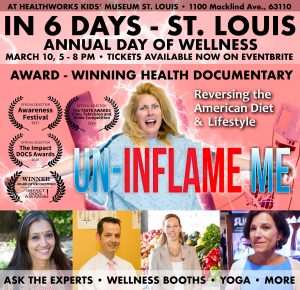 Enjoy an evening dedicated to wellness and healing.
Health and wellness experts abound at this unique one day wellness opportunity. Hosted by Filmmaker Angela Lamb of Health Documentary "Un-Inflame Me: Reversing the American Diet & Lifestyle," HealthWorks Kids' Museum and Joy of Yoga.
Explore endless wellness booths featuring healthy food & beverage samples, massages and more. Take a yoga class and meditate with Joy of Yoga. Talk with the root cause medicine specialists featured in the film including Integrative Cardiologist, Dr. Michael Twyman; Integrative Pediatrician, Dr. Anu French, Integrative Primary Care Physician, Christine Sigman, and Registered Dietitian Jessica Stafford. Plus watch the yet to be released health documentary film created in St. Louis that will help you learn about chronic inflammation, which leads to the top causes of death in the US, how to reduce chronic inflammation naturally, PLUS learn about medicine that focuses on prevention and disease reversal.
Schedule of Events:
*All Events are Optional and Beginner-Friendly! Bring a Yoga Mat if you Desire to Participate in the Meditation & Yoga.
5:00 PM – 8:00 PM Explore Wellness Booths at Anytime
5:00 PM – 5:20 PM Cardio Dance by Melanie Gibson
5:20 PM – 5:50 PM Yoga lead by Joy of Yoga
5:50 PM – 6:20 PM Meditation lead by Joy of Yoga & Dr. Anu French
6:20 PM – 7:20 PM Film Screening
7:20 PM – 8:00 PM Q & A by Filmmaker, Angela Lamb & Experts Featured in the Film
Tickets available in advance by Eventbrite.