Parent Child Partner Poses have become a favorite pastime for many families. It is fun, provides a wonderful bonding experience and a nice gentle flexibility and stretching workout.
We celebrated Valentine's Day this past month with our You & Me Together Lesson in "Bonding with My Bunnies: Yoga Lesson Plans for Families & Children."
Check out just some of the many parent child partner poses below from the You & Me Together Lesson. And if you are looking for many more fun partner poses check out the full lesson AND our Mother's Day/Father's Day lesson in "Bonding with My Bunnies: Yoga Lesson Plans for Families & Children." You can use all these poses to spark your child's creativity and encourage them to make up their own fun partner poses.
If you are teaching yoga to families and children these poses are also great visuals to share with your families either online or in person. Partner yoga poses are such a fantastic way to spend quality time together, stretch, relax, practice yoga and have that special time with those you love.
This sequence of poses is meant for both parent and child, two adults or two children working together to create the pose. Do not worry if you haven't practiced yoga before. Just have fun, bond and relax!
It is best to practice barefoot on a non-slip surface such as a yoga mat. To ensure safety, clear any obstacles that may be in the way before doing any poses.
Use this special time to simply be healthy and playful. After you complete the poses take time to relax in FINAL RELAXATION POSE (Savasana).
6 Parent Child Yoga Poses
How to do EXTENDED MOUNTAIN HEART POSE
Both of you should sit in HERO POSE and face each other. Extend your right arms down to knee level and place your palms of your right hands together to form the bottom point of the heart. Then extend your left arms up near your left ears curved to form the top of the heart. Touch the back of each others hands to form the heart's point. See image below.
2. How to do PARTNER HIGH LUNGE HEART POSE
Turn away from each other. Place your right feet forward with knees bent. Extend your left legs straight back and touch back heels together into Warrior One Pose. Gently reach back to connect hands and carefully open chests. Then perform again with left feet forward and right feet back.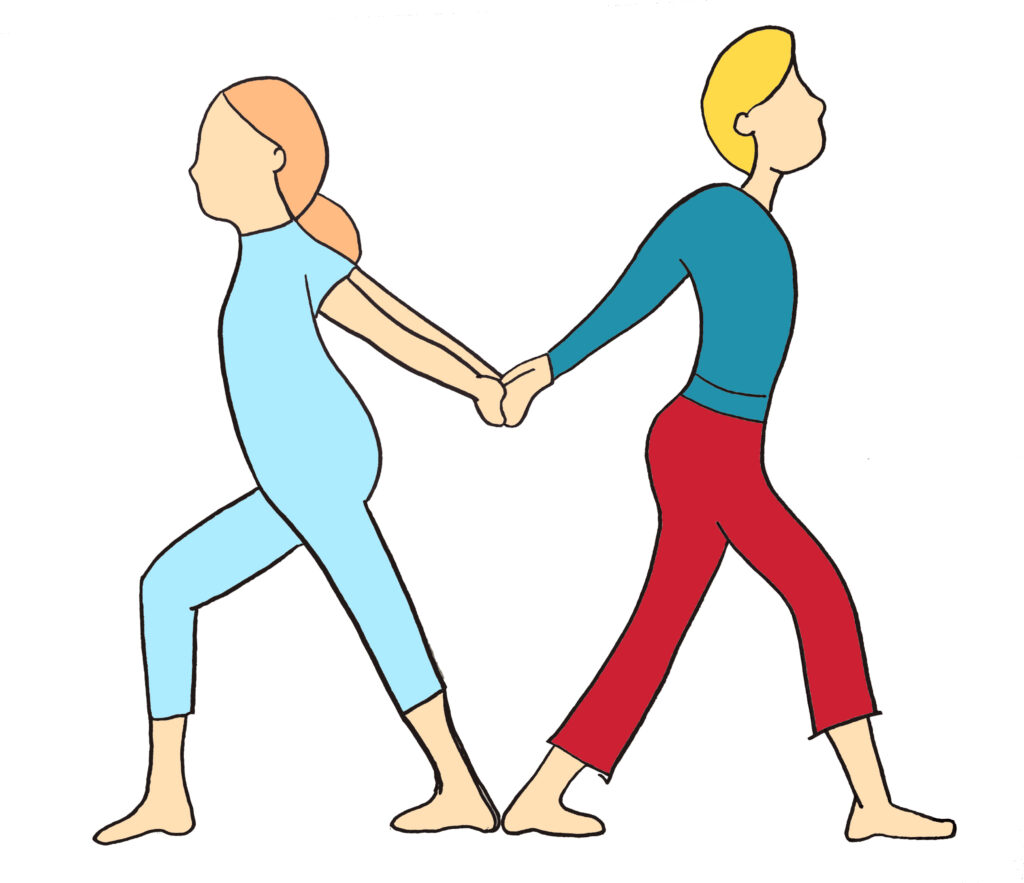 3. How to do PARTNER BACK TO BACK TWIST POSE
Sit back to back in EASY POSE, turn your body to your right and rest your right hand on your partner's left knee while twisting your torso. Then release this pose and turn back and look forward. Then repeat the pose on your left side resting your left hand on your partner's right knee. Perform these twists in unison.
4. How to practice SEESAW PARTNER POSE
Sit in an L position facing each other. You could either press your flexed feet together, or one person could bring their feet inside their partner's legs. Reach forward and take each other's hands. To begin the seesaw, one partner leans back, bringing the other partner forward. Each partner takes turn leaning back and then bending forward to create the seesaw. Try this back-and-forth movement a few times.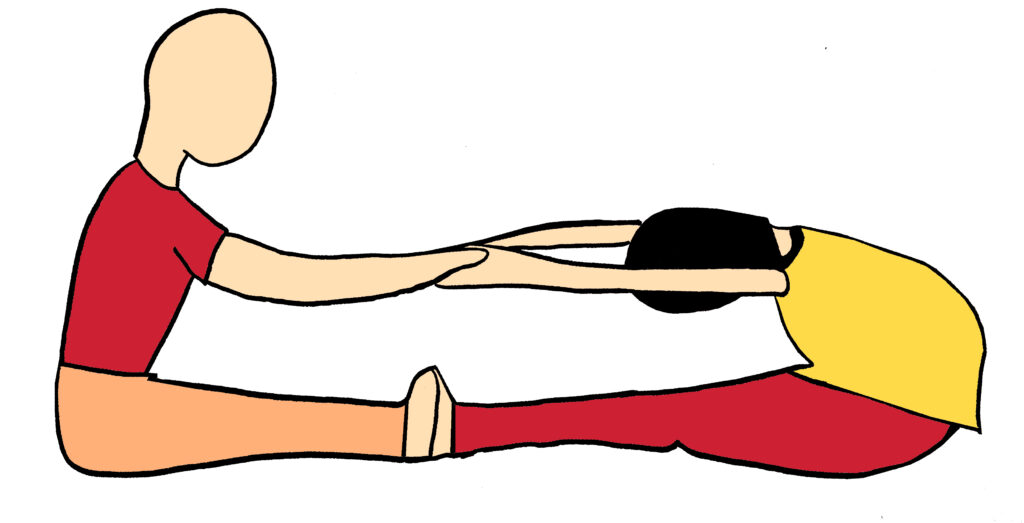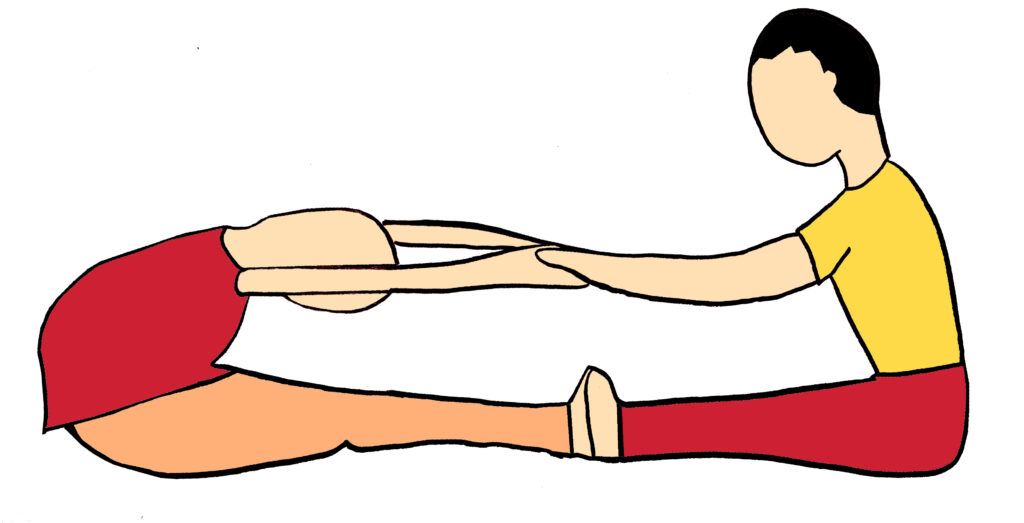 5. How to practice PARTNER CHILD'S POSE
Do CHILD'S POSE facing each other. Parent should be the base and child's arms should rest on top.

6. How to practice PARTNER WARRIOR TWO POSE
Face away from your partner. Extend the right leg forward with knee bent and left leg back connecting your left feet. Extend your right arms forward in front of you and left arm back holding on to your partners hand. Then repeat with left leg forward and right leg back.